Fostering Change in America…and The World! – An Overview
Fostering Change in America.
What comes to mind when you hear the phrase fostering Change In America? Perhaps a few questions pop in your head. You may wonder what changes are being fostered? Or how will America or the world be changed?
Asking questions is the best way to learn more about a concept.  In fact, our team encourages you to ask us questions throughout this journey. We are always happy to provide you with answers and further clarification, so please, ask away!
Fostering Change in America will be more than a podcast, it's the continuation of a long-standing journey and the start to an exciting movement. Travis Lloyd, the founder and man behind the plan, once had a dream to change the world and has spent the past 10 years making that dream a reality through empowering audiences across the U.S. to live more purposefully and be someone who makes a difference. We've all seen how these two principles leads to more fulfillment in life and that's what we aim to help people discover.
With hard work, dedication, and a ton of support, we believe that this podcast will take that imperative message to millions. We. Will. Change. The. World.
(Watch a short video about this program)

We are proud to say that we have already confirmed our first guest for the show. We are currently sworn to secrecy so we can't tell you who it is, but we KNOW you will love this person and you will learn so much about improving your own life while impacting others. This first guest runs an international business and has built his life around social entrepreneurship. He's also connected to some of the absolute biggest names in the world when it comes to personal and business development.
If you're wondering who "we" are, I'll start by introducing myself. I'm Nicole. I've joined Mr. Lloyd's team as the Project Manager because I believe that this message is worth spreading. I am passionate about helping others become successful and I believe whole-heartedly that this project will do exactly that. I'm "all in!" and I hope you will be too.
Our team has been working for weeks already to prepare for a big launch that we want you to be a part of. We even made a video that explains more about the podcast and why it will be a "must have" in your podcast subscriptions.
If this interests you at all and you want to 
feel more fulfilled 

in life while also feeling how amazing it is to make a difference for others then

click the "got purpose?" image

and watch the video to learn more.

(Watch a short video about this program)

Meet Our Team!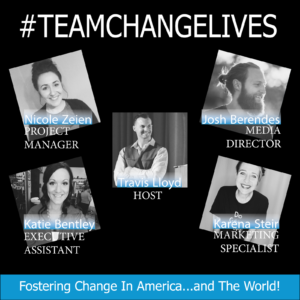 ABOUT THE AUTHOR
---