The Great Things That Happened When I Stopped To Smell The Roses
The Great Things That Happened When I Stopped To Smell The Roses
The first time that I had an organization pay for my travel expenses to present at their event as a speaker and performer I was ecstatic!
I was so excited that I took 3 days off of work simply to have a more fulfilling experience during my travels. I wanted to savor the moments, learn, grow, and expand.
As the booking requests to speak in more and more states started flooding in I found that the travels became less and less of a positive experience. The travel days and schedule changes started to stress me out, especially when something doesn't go right (delayed flight, flat tire on a rental car, disgruntled TSA employee, etc.).
It truly impacted my mindset and how I viewed the world. It made things less enjoyable.
And just when I thought I had run into every possible headache, I came across a new roadblock:  I got booked to present for a state-wide child welfare training in Bismarck, North Dakota (awesome!), but there were no flights going in and out of Bismark that fit my schedule.
I had to drive.
Eleven to 12 hours each way, depending on the number of stops (for some reason I had to stop a lot so it was closer to 12 hours each way). Geez!
It started out okay, but sitting in a car that long by yourself can get to about anyone who is not accustomed to long-haul semi-driving. The long haul paired with little things just not going the way I hoped got to me mentally. It started to impact my mood and diminish my excitement for the event (I'm usually VERY excited).
But then I thought about the first time I had the OPPORTUNITY to travel, speak, share my story, and make an impact. During that fist trip I planned enough time to figure things out and never cared when things went not as expected. I just went with the flow of the day, good or bad.
It was so freeing.
I remembered that it's not about me. It's about making an impact, creating positive change, and inspiring others.  I remembered that I need to get outside of my own brain and know that I have to show up in life no matter what.
Remembering this allowed me to focus on the blessings that came with the little bumps in the road and I asked myself, "When was the last time you stopped to smell the roses?"
Once I stopped to smell the roses I was able to slow down and experience the city and culture and do some sight seeing. This is a photo of me at the North Dakota State Capital Building (2nd highest capitol in the U.S.)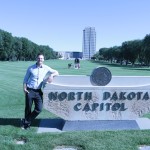 I challenge you to ask yourself that question. When was the last time you stopped to smell the roses?
Here is a small list of experiences that I was afforded due to the fact that I simply stopped to smell the roses during my trip to Bismark, North Dakota:
Learned about the history of state capitols & met really awesome helpful people at the capitol who went out of their way to teach me and share an experience with me.
 I was more patient with a waitress who was very rude to me. Instead of getting upset, I over-tipped her. The cook then lost my order and I waited almost an hour. During that hour I met a conference attendee who inspired my vision for how to present the next day. The waitress was grateful for the tip. She apologized for the delay (very kindly) and got the manager to refund my 20 dollar meal (and I never said a word or requested a refund). She even had the front desk deliver silverware to my room so I could get back to work.
On my (long) drive home I happened to notice a sign for the North Dakota State Hospital where I stopped to donate copies of my book Overcoming Emotional Trauma. I also donated books to staff members in the administration office at the penitentiary next door.
I hope that this inspires you to slow down and welcome the amazing experiences that we, all too often, pass up every day.
Website: www.travislloyd.net
Facebook: facebook.com/travislloyd
Twitter: travislloyd
LinkedIn: linkedin.com/in/travislloydspeaks
Instagram: travislloydspeaks
Learn more about Travis Lloyd & how he compares to other college motivational speakers by watching some videos.
Travis Lloyd is an inspiring motivational speaker with a powerful story of Overcoming Adversities to achieve happiness and Success – Against All Odds. As a motivational speaker, Lloyd's audiences include high school, college, leadership events, and conferences for educators, child welfare and mental health professionals. He speaks and performs internationally, and previously served as a Mental Health Crisis Worker. He advocates for social change that impacts at-risk populations and authored the book Overcoming Emotional Trauma: Life Beyond Survival Mode. He is a board member of Foster Care Alumni of America, VP of the Our Fields Of Hope Foundation and co-author of the book Fostering Hope For America. Find out more at www.TravisLloyd.net.
Motivational speaker Travis Lloyd believes that "If someone else can do it, so can you!"